Mass spectrometers for vacuum, gas, plasma and surface science
More than 40 years of design, development and manufacture of quadrupole mass spectrometers.
What we do
Take a look at our company video to learn more about our people, our instruments and the range of applications they are used for. 
About Us
We design, develop and manufacture quadrupole mass spectrometers for advanced research applications and specialist process monitoring.
Your Application
Our systems are used in a wide range of applications. Find the right system for your application.
We design, develop and manufacture mass spectrometers for a wide range of applications:
Gas Analysis
Real time gas analysers that address the broadest application range.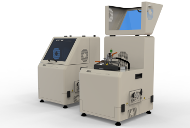 Catalysis and Thermal Analysis
Automated micro reactors and mass spectrometers for catalyst researchers.
Thin Films, Plasma and Surface Engineering
RGA, plasma ion analysis, surface analysis and SIMS end point detection.
Residual Gas Analysis
Analysis of gas and vapor species in vacuum chambers and processes.
Surface Analysis
Surface analysis, UHV surface analysis, SIMS & SNMS.
Hiden Analytical are proud sponsors of the AVS Webinar "Fundamental and Practical Insights on Stress Evolution during Thin Film Growth" taking place live at 1.00p.m. 5.00p.m EST on Tuesday 25 January 2022. You can register your details to "Join the audience" Find out...