QGA 2.0 has Launched!

Unveiling our Next Generation Gas Analyser
About Us
We design, develop and manufacture quadrupole mass spectrometers for advanced research applications and specialist process monitoring.
Sign Up To Our Newsletter
Newsletters are available for Plasma, Vacuum, Gas, Catalysis & Surface Science, sign up now to receive regular updates.
Take a look at our most popular products
QGA 2.0
Next generation gas analyser
pQA
Portable gas analyser for environmental studies
Compact SIMS
User-friendly surface analysis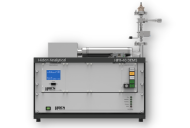 HPR-40 DEMS
Real-time electrochemical analysis
EQP Series
Mass and energy analyser for plasma studies
Hiden Analytical Ltd is excited to announce its latest innovation in gas analysis technology – the QGA 2.0, which sets a new standard in environmental sustainability. The QGA 2.0 is not just a leap forward in performance but also a champion of eco-friendly practices....
We're thrilled to invite you to the live stream of the Hiden Analytical Plasma User Meeting! In collaboration with Hiden Analytical and the esteemed Fraunhofer Institute for Material and Beam Technology (IWS) in Dresden, Germany, we're bringing together the best minds...
Join Dr Dane Walker from Hiden Analytical at Algae Europe, which will be held 12-15 December, 2023, in Prague, Czech Republic. Visit Conference Website: click here Find out more about our upcoming exhibitions & conferences.
Hiden Analytical Ltd.
420 Europa Boulevard,
Warrington, WA5 7UN, U.K.