Mass spectrometers for vacuum, gas, plasma and surface science
More than 40 years of design, development and manufacture of quadrupole mass spectrometers.
What we do
 Take a look at our company video to learn more about our people, our instruments and the range of applications they are used for. 
About Us
We design, develop and manufacture quadrupole mass spectrometers for advanced research applications and specialist process monitoring. 
Your Application
Our systems are used in a wide range of applications. Find the right system for your application.
We design, develop and manufacture mass spectrometers for a wide range of applications:
Gas Analysis
Real time gas analysers that address the broadest application range.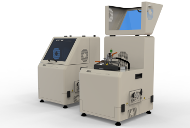 Catalysis and Thermal Analysis
Automated micro reactors and mass spectrometers for catalyst researchers.
Thin Films, Plasma and Surface Engineering
RGA, plasma ion analysis, surface analysis and SIMS end point detection.
Residual Gas Analysis
Analysis of gas and vapor species in vacuum chambers and processes.
Surface Analysis
Surface analysis, UHV surface analysis, SIMS & SNMS.
Real-time continuous analysis is utilised in laboratories all over the world to improve safety, efficiency, and testing capabilities of chemical compounds. For example, quadrupole mass spectrometry is capable of resolving gas mixtures comprising numerous constituents...
Hiden Analytical Europe are exhibiting at "ACHEMA 2022" When: 22nd - 26th August, 2022 Venue: Messe Frankfurt, Frankfurt, Germany Visit Conference Website: click here Find out more about our upcoming exhibitions & conferences.
Plasma is ubiquitous in nature. Plasma is an ionised gas made up of charged particles formed by heating a gas to high temperatures where atoms start colliding, and the electrons are knocked off. Most of the known matter in the universe is in the plasma state....
Hiden Analytical Ltd.
420 Europa Boulevard,
Warrington, WA5 7UN, U.K.