Mass spectrometers for vacuum, gas, plasma and surface science
More than 40 years of design, development and manufacture of quadrupole mass spectrometers.
What we do
 Take a look at our company video to learn more about our people, our instruments and the range of applications they are used for. 
About Us
We design, develop and manufacture quadrupole mass spectrometers for advanced research applications and specialist process monitoring. 
Your Application
Our systems are used in a wide range of applications. Find the right system for your application.
We design, develop and manufacture mass spectrometers for a wide range of applications:
Gas Analysis
Real time gas analysers that address the broadest application range.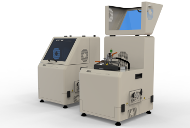 Catalysis and Thermal Analysis
Automated micro reactors and mass spectrometers for catalyst researchers.
Thin Films, Plasma and Surface Engineering
RGA, plasma ion analysis, surface analysis and SIMS end point detection.
Residual Gas Analysis
Analysis of gas and vapor species in vacuum chambers and processes.
Surface Analysis
Surface analysis, UHV surface analysis, SIMS & SNMS.
Hiden Analytical are proud sponsors of the Joint IOPS / OLTP Webinar "Plasma Catalyst-Integrated System for Ammonia Production from H2O and N2 at Atmospheric Pressure" taking place online Thursday 26th May, 2022. When: Thursday 26th May, 2022 Speaker...
A vast number of products and materials, including high-strength polymers, fuels, refrigerants and cancer treatment drugs, would simply not be possible without the existence of catalysts.1 Catalysts are substances which can increase the rate at which a chemical...
Hiden Analytical are exhibiting at "19th Nordic Symposium on Catalysis 2022" taking place 6th-8th June, 2022. When: 6th-8th June, 2022 Venue: Espoo, Finland Visit Conference Website: click here Find out more about our upcoming exhibitions & conferences.
Hiden Analytical Ltd.
420 Europa Boulevard,
Warrington, WA5 7UN, U.K.