QGA 2.0 has Launched!

Unveiling our Next Generation Gas Analyser
About Us
We design, develop and manufacture quadrupole mass spectrometers for advanced research applications and specialist process monitoring.
Sign Up To Our Newsletter
Newsletters are available for Plasma, Vacuum, Gas, Catalysis & Surface Science, sign up now to receive regular updates.
We design, develop and manufacture mass spectrometers for a wide range of applications:
QGA 2.0
Next generation gas analyser
pQA
Portable gas analyser for environmental studies
Compact SIMS
User-friendly surface analysis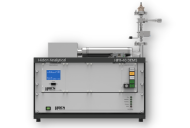 HPR-40 DEMS
Real-time electrochemical analysis
EQP Series
Mass and energy analyser for plasma
In a significant upgrade to its research capabilities, the Università di Roma now boasts the advanced Hiden HPR-20 EGA (Evolved Gas Analyser) for pyrolysis studies. The installation, expertly managed by Hiden Analytical's Aldo Conti, promises to push the boundaries of...
Hiden Analytical Ltd.
420 Europa Boulevard,
Warrington, WA5 7UN, U.K.