What We Do
Take a look at our company video to learn more about our people, our instruments and the range of applications they are used for. 
About Us
We design, develop and manufacture quadrupole mass spectrometers for advanced research applications and specialist process monitoring.
Sign Up To Our Newsletter
Newsletters are available for Plasma, Vacuum, Gas, Catalysis & Surface Science, sign up now to receive regular updates.
We design, develop and manufacture mass spectrometers for a wide range of applications:
Gas Analysis
Real time gas analysers that address the broadest application range.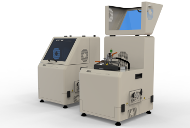 Catalysis and Thermal Analysis
Automated micro reactors and mass spectrometers for catalyst researchers.
Thin Films, Plasma and Surface Engineering
RGA, plasma ion analysis, surface analysis and SIMS end point detection.
Residual Gas Analysis
Analysis of gas and vapor species in vacuum chambers and processes.
Surface Analysis
Surface analysis, UHV surface analysis, SIMS & SNMS.
Secondary ion mass spectrometry (SIMS) is advantageous for its high sensitivity and the ability to provide high spatial resolution elemental and molecular information as a function of depth. This makes SIMS imaging an essential tool for depth profiling, where samples'...
Hiden Analytical Ltd.
420 Europa Boulevard,
Warrington, WA5 7UN, U.K.