For further information and pricing, please get in touch with us.
Ion Beam Deflector Option
An ion beam deflector component option is offered to provide 90 degree beam deflection. Available as an option on cluster series systems.
The Hiden Ion Beam deflector is a specialised device that allows a beam of ions to be steered into a Hiden quadrupole system, or another experiment.  
Its main application is in molecular beam studies, where it can deflect a molecular beam towards a quadrupole, detector or directly into a process chamber where the molecules can be landed on a specific surface.  However, it is applicable to any beam steering application where a 90 degree bend is required.  Ideally the beam should be parallel and columnated entering the device and a lens can be included to facilitate this.  Additionally, an exit lens can be included to focus the beam to the next part of the experiment.
The Hiden Ion Beam deflector is a DC device and uses a single, dual polarity, power supply.  Typically for a beam with energy, E (where E is in eV), the voltage required to operate the bend is ± 0.8 E (i.e. 8 V for a 10 eV beam).
The deflector is fully scaleable and larger versions can be fabricated to steer large diameter beams.
| | | |
| --- | --- | --- |
| Beam Deflector | Quadrupole Mounted | Type 582000 |
| Beam Deflector | Conflat Flange Mounted | Type 582010 |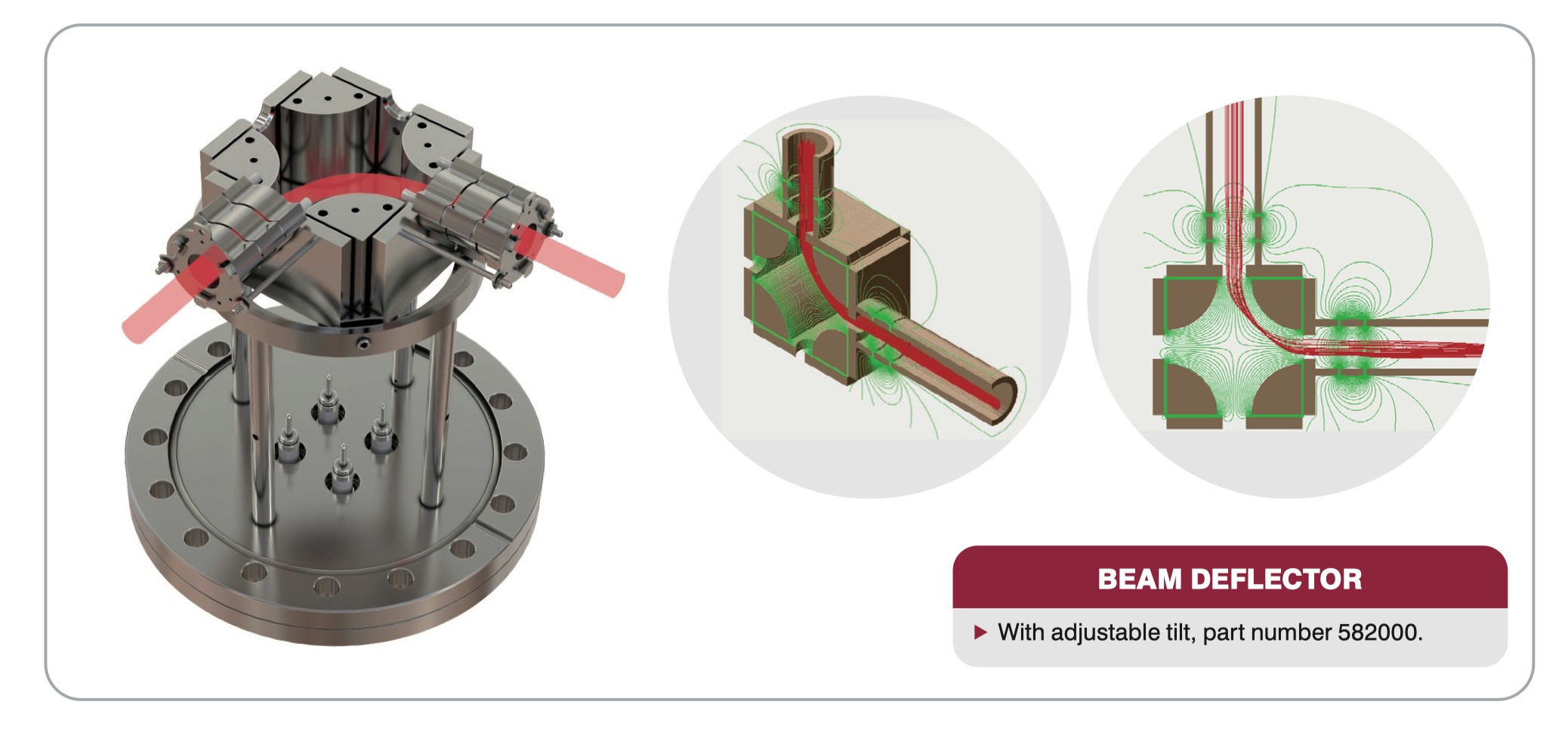 The system is supplied with MASsoft Professional software.
This Windows 10 and Windows 11 compatible software allows control of the instrument via USB 2.0, RS232 or Ethernet. Provides comprehensive I/O for data output and for reading data from external devices for integration and display with mass spectrometer data.
The iRGA software is a new and intuitive application for routine vacuum monitoring. It is designed to be simple and automatic.
automatically provides partial pressure data for the common residual gas and vapours, including hydrogen, helium, water, nitrogen, oxygen, argon and a custom gas.
includes a new tablet view where the background colour changes depending on alarm condition
includes a trend view, scan, leak detection and maintenance modes
includes alarm function to send alerts to internal I/O, Wi-Fi and by email