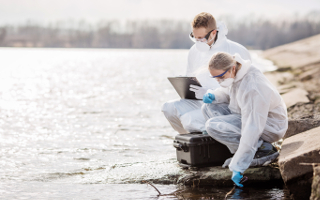 For further information and pricing, please get in touch with us.
Monitoring of Water Quality in Groundwater Systems
The HPR-40 DSA Mass Spectrometer provides reliable and efficient groundwater quality monitoring solutions to help you ensure the safety and sustainability of your water supply.
Groundwater is a crucial source of freshwater that is extracted and used in many regions worldwide. To ensure the quality and sustainability of the extracted freshwater supply, it is important to monitor the distribution, movement, and impurity levels in groundwater systems over time.
Groundwater accumulates in vast underground reservoirs, known as aquifers, which are formed by water accumulating in soil pores and rock fractures beneath the Earth's surface. Surface discharge of groundwater can occur naturally at springs, oases, and wetlands, but it is often cheaper and more reliable to extract groundwater from aquifers than surface water sources.
However, groundwater is also more prone to pollution from industrial and household chemicals, pesticides, and landfills. This pollution is often less visible and harder to remove than surface water contaminants. That is why effective analysis of contaminants in aquifer samples, as well as the sources of recharge such as streams and rivers, is essential to ensure the high quality and sustainability of the extracted freshwater supply.
Method: The Flow-Through Dissolved Species Probe enables continuous real-time measurement of dissolved gases directly from aqueous solutions. The choice of a suitable membrane is essential to ensure the maximal permeation of the targeted dissolved gases. With enhanced permeability to noble gases and a suitable gas exchange surface, the Large Circular Membrane Cell has been selected for our CF-MIMS. This membrane inlet system allows a continuous flow measurement of dissolved gases.
Mass spectrometric monitoring of gas dynamics in peat monoliths: effects of temperature...
Direct mass spectrometric measurement of gases in peat cores. ...